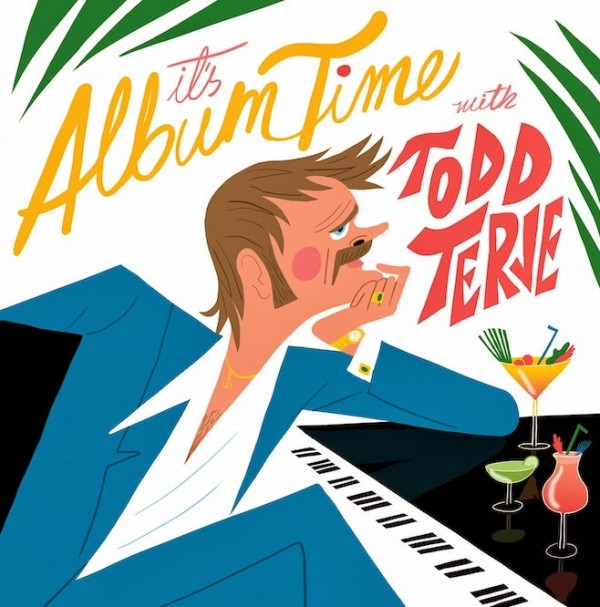 You should have heard about Todd Terje. He is a Norwegian DJ (He was #17 in the Rolling Stone Magazine list of The 25 DJs that rule the earth), Producer (Dance Hits like "Inspector Norse", "Ragysh" oder "Eurodans") and Remixer (for Hot Chip, Brian Ferry,…).
But let me talk about his Debutalbum: "It´s Album Time". The name itself could have been better. But the artwork with Mr. Goldanchor is really great!
The Intro is like the cover. A drunken man, lost in thoughts who is listening to funky Disco music. I like it! But, you need humor to smile about the voice in the end singing "It´s Album Time". Leisure Suit Preben starts deep with a nice Bass and bubbling, dubby sounds. At one minute and eight seconds you´ll wake up, when the drunken man also woke up and played the piano. I like it, but at two minutes and fourteen you need humor again for a New Wave change. This kind of drunken soli and musical progress happens in every song. Preben Goes To Acapulco is a long and nice Disco Roadtrip with funky Horns and an interesting solo.
Svensk Sås is the reason i wrote this complete post! This track is definitely my humor! Disco, Latin and a lot of crazy sounds – i love it!!!
The next track Strandbar was released summer last year. I liked the Samba Version. Delorean Dynamite is a boogie tune.
Johnny And Mary featuring Bryan Ferry is the only real vocal track. But it is not mine… i´m too dirty for this melancholic, clean pop track.
Alfonso Muskedunder is a 7/8 monster. Try to swing to it. Then you can listen to Swing Star Part I and Swing Star Part II. Track number 11 and 12 go by the name of Oh Joy and Inspector Norse.
It is a Disco Album. And Disco has to be irrelevant on one hand and timeless on the other. I like the funk influences, the drunk man on the cover and Svensk Sås. But i still don´t like Disco.
Release date: Monday, April 7th 2014