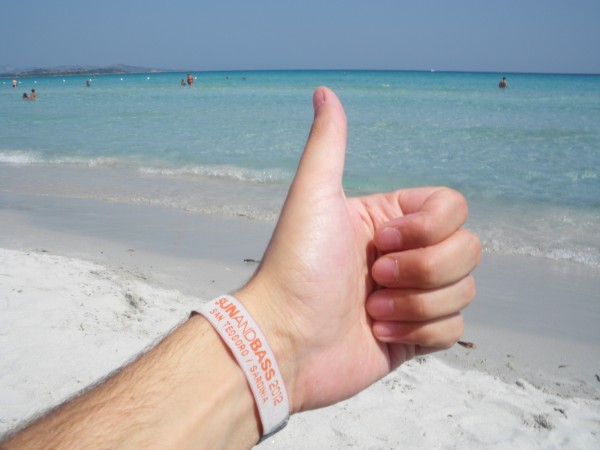 Sun and Bass is not Drum and Bass best kept secret anymore, but it´s still magic. The little mediterranean village San Teodoro is an ideal destination for relaxing and exciting locations to party. The gorgeous beaches with crystal clear water and white sand are perfect to lie back. You have very tasty food, the mountains with special things to discover, natural waterfalls and breathtaking views. The festival started as a small party back in 2003, now it´s one of the most recognized events in the international Drum and Bass scene. The line up is different but massive and the people come from all over the world to enjoy one week of various entertainment.
Saturday night started with great artists like Kasra, Phace, Ulterior Motive, Enea, Alley Cat, Synkro, Youngsta, Fava, Kemo and many more.
There was no rain for more than four month on the island, as we landed the sky was dark and rain started to fall from sunday to wednesday. But the crew did their best and found great alternatives to the open air spots. The party had to move from Ambra Night to the Ripping Club. The clubowner and SnB crew worked very hard to get all things from one place to another, in the end there was one area and the artists decided to play back 2 back: Fracture, Jubei, Marcus Intalex, Lenzman, Goldie and System back 2 back A- Sides, Bailey, Storm and Randal hosted by DRS, Lowqui and GQ – what a night!
On monday both areas in the Ripping Club were ready to enter, in the one corner you had Klute, Dom & Roland, Alite, Chris SU, Nymfo, Stamina and Fava for Commercial Suicide and in the other corner Marc Recoil, Arpxp, Nu:Tone (with one of the best sets), Wrec, Lowqui and S.P.Y. with his Album launch setting the level high!
From now on things got their own way for us and there are too much storys to tell… Partys on the beach, by day, by night, many good sets in and outdoor with names like DBridge, Skeptical, Spectrasoul, LTJ Bukem, Marky, Conrad, Calibre, Lynx, Ly.da´Buddah, John B, Jenna G, Soulsurfer, Big Bud, Triad, Zero T, Seba, Doc Scott, the Manchester Crew with DRS, Dub Phizix and the complete Broke´n`English Crew plus many more.
On wednesday we reached Bal Harbour just to take a good meal and heard LTJ Bukem with Conrad, Fats and the amazing voice of Robert Manos.
Everything is very familiar with lots of love for the music.