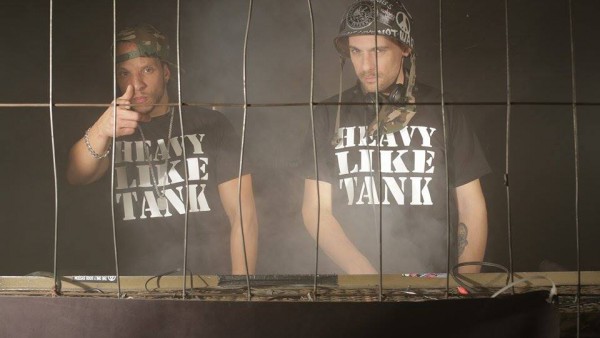 The wicked Berlin city duo Soultrain and Phantom Warrior produced a Jungle Anthem "Heavy Like Tank", that is out on the Liondub International Compilation "From Jungle To The World Volume 1".
Here is the video and if you like to read a little interview about the release just click for more.
Please introduce yourself.
Phantom Warrior: I have the Jungle fever since the early 90´s and started DJing in 1995. My label Katana Audio was established at the beginning of 2012.
Soultrain: I started out MC'ing on the Jungle circuit in 1995 in the Mannheim region of Germany. I actually come from a reggae and hip hop background and saw this new music as just another form of Techno. One of my friends took me to a rave where DJ E-Decay was playing some Ragga Jungle and I got tempted to grab the mic and spit some bars on his set. He liked what I did and we became good friends and went on to play countless gigs together, thats basically how I started out as a Jungle DnB MC. I quickly gained recognition and played at many of the major DnB Raves in Germany. Two of the biggest raves were Future and Meditation where I became one of the resident MCs. 
I met Navigator in 1995 at a party in MS Connexion in Mannheim and we have been friends ever since. In 1998 Navi heard a dubplate that I voiced for DJ D Kay called "United so Far" which came out on E-Decay's Lost in Bass compilation. After hearing me live on numerous occasions Navigator decided to help me develop from being just a rave MC to being an artist and thats how I eventually got involved with Rawhill Cru and voiced a verse on Mo' Fire. One of my fondest memories out of that era was definitely playing at a Meditation party in Halle 101 Speyer in front of 5000 Ravers. This was the time when Jungle DnB blew up massive in Germany, Austria and Switzerland when the music was also breaking other new ground in Europe. Working in the studio and touring with the likes of Ragga Twins, MC Spyda, Daddy Freddy, Navigator and Tenor Fly definitely influenced my career highly and taught me a lot of skills as a recording artist.
Why did you choose this name for the song?
Soultrain: I knew Phantom Warrior from way back in the late 90s, but we really started to work together when he moved to Berlin couple of years ago. After playing a number of shows together, we both felt like it was time to step up our game and go into production mode. Phantom gave me a bunch of riddims and when I heard the instrumental of "Heavy Like Tank" I was like "yeah a me dat!" I can't really explain how I found the hook and the wording for the song, but the whole tank theme was definitely inspired by the thought of dropping some sound clash bars on the beat. When I get into writing mode, it's sort of like the riddim tells me something and when I am able to put that into lyrics, I mostly end up with a good song.
How long have you worked on this tune?
Phantom Warrior: It was a long process.
Please tell us something about your connection to Liondub?
Soultrain: I met Liondub in 2013 at a show in Yaam club Berlin where I was booked. Liondub, Navigator, MC Scandal and me performed together that night and played a wicked set. After the set Liondub and me had a conversation about working on future projects and collaborations and I felt humbled that he wanted to work with me. In 2014 Liondub came back to Berlin to play a show at the Katana Audio night where myself and Phantom performed "Heavy like Tank" for the first time, after our set Liondub said "That Tank tune, I want that for our Label!" That's how our working relationship really came about, so me an Phantom decided to do an EP for Liondub International and so far we've got five bangers together including "Heavy like Tank" all set to be released later this year. The reactions since the release of the track and the video have been very positive all round and it's a great feeling when you're out in London raving and you hear your tune played in a party and the promoter tells you how much he rates your work.
Who did the mastering and the video?
Phantom Warrior: I have done the mastering. The video was made by a good friend of mine and my roommate Syntax MC and his own company Petroshelly.
What's happening currently in the Jungle DnB scene in Berlin?
Soultrain: The Jungle DnB scene in Berlin is consistently growing, we've got a few nights that are running very well and it's actually been like that for a while now. Berlin has a thriving nightlife in general so I don't think that the DnB scene will be declining any time soon.
What are your plans for the next year?
Soultrain: Well, Phantom Warrior is definitely planning to release more music on his label Katana Audio and individually I am working on different projects and more collabs with other producers and artists also in genres like Reggae and Danchall . I can't say much more than that right now, except that an album by Soultrain Locomotive is currently in progress and most probably I will drop another EP before the album release, so keep your eyes peeled!
Stay tuned! We stay pon track! Big Up.
Thank you for the interview.