Neonlight are good friends. The last interview we did was in January 2013 where they have already been the biggest German Drum and Bass export. They gone from Lifted to Viper and finally reached their home with Black Sun Empire Recorings. They toured the world, locked themselves up and now they can finally release their debut album "My Galactic Tale" with sixteen tracks and a five page long sci-fi story.
How does it feel to get this big project done?
Freedom. Our Studio was the center of our life the last 2 months. It was fun and struggle at the same time because we had short deadlines. And now we see and hear the result and are very proud. It is not only a bunch of tracks, rather a well constructed piece – like a soundtrack for a movie. And now we are very excited how the fans and other people like it. Or not.
It took you around ten months to finish the "Computer Music" EP. How long did you work on your debut LP?
Well, the first sketches are from 2014. But we also did a couple of remixes and collaborations in between before we focused fully on the Album in September 2015 again. The last six months were dedicated only to MY GALACTIC TALE.
You are getting faster. What was the most annoying and what the most fun part during the production process?
Mixing and mastering can be pretty annoying! It reveals mistakes you did in the process before. You listen to a track you have been working on for weeks again and again, teasing out smallest nuances. Nothing works the way you want it. Ultimately you have to go back in the mix, but if you pull one brick, the whole tower collapses. Fortunately that happened not that often while doing the album.
Getting a track done in a week is fun! When you are in a flow and everything comes together easily. Recording your own vocals and sounds can be pretty funny and exciting as well, particularly when using it in a totally different way as you planned. Or just if you think you have a brilliant idea and people will surely freak out hearing it.
Last time you told us that you are going to build two rooms in one studio so that you can work separated or together on one idea. Is it ready, how does it look like and how did it change your way of production?
Well, we have two rooms with two main workstations, and there is a third one we share with somebody. All three workstations are synced so we do not have to think about what project can be opened on what PC. But each room sounds different. And to be honest, our acoustical modifications are – well, let's say simple.
The room situation has not changed much. We often work simultaneously on two Cubase projects or doing sound design. Each of us adds content, and when it comes to the mix all four ears are vital.
Is Jakob the hero on the drums and Tobias the villain for the dirty bass?
Tobi: Some of you maybe know that Jakob has a diploma in Percussion (Jazz/Rock/Pop) but he is not the man to do the drums only. He is really into making great musical sections in our tracks and lots of details especially effects. I often create first ideas for new tracks or remixes, playing around with Massive, Serum, FM8 and/or Samples. At least it is not possible to say clearly this is Jakob´s job and this is my task while doing a track. This keeps the process writing music, lively and healthy in my opinion.
What came first. The story or the music?
Some of the tracks were already in the making before we had our first brainstorm sessions to create a concept for this album. Later it went hand in hand. Audio created pictures in our heads, visual ideas and settings were input for creating an acoustic world and so on.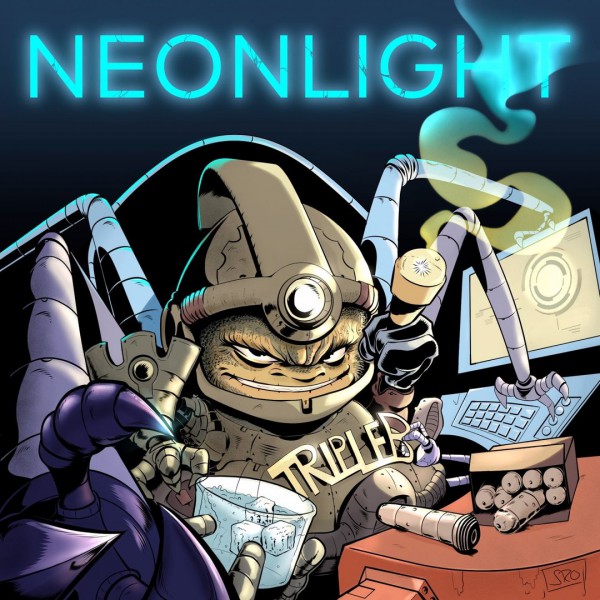 Please tell us something about the promo tour plans?
We have a couple of really cool festivals lined up already for this summer. We are happy to play again at the
"Sonne Mond Sterne Festival" and also at the "Fusion Festival", both in Germany. The mighty "Let It Roll Festival" is also on the list again. We are also part of the first ever "Blackout Music Lable Showcase" at Belgium's finest "Dour Festival" alongside Black Sun Empire, State Of Mind and MC Lowqui. Last but not least you can see us playing in Poland at "Audioriver Festival".
More club show before and after summer will be announced soon. So do not sleep checking our social networks.
Is Blackout your exclusive home for the next years?
Yes! It was always a very good cooperation with the Label and the Black Sun Empire guys as well! So we felt comfortable to sign exclusively.
What else can we expect next?
We did a lot of new music in 2015. Not all tracks we wrote made it to the album. We have a couple of remixes on the go and also cool collabos done, with Black Sun Empire and State of Mind to name a few. The very next release after the album will be a track on Pythius´s new EP on Blackout.
Thank you very much for the interview!
To celebrate their first album Neonlight is giving away this track for free: Microbots.
The whole album drops on 6th May 2016.