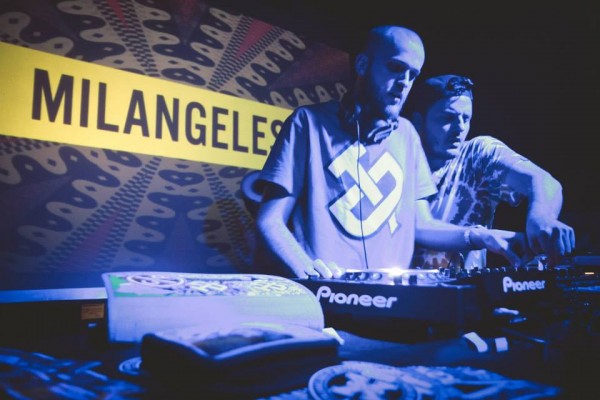 Milangeles is a Tropical Bass DJ/producer duo from Northern Italy. I spoke with Teddy and Filippo about Hipsters, boring Trap music and their father Daniel Haaksman.
Please introduce yourself.
Three years ago Teddy was living in another city. He moved to Pavia (close to Milan) because we organized a lot of parties here and as a production team you are faster when you work together in one room. He decided to quit his job and moved to Pavia. The Golden age of Electro was gone and we searched for a fresh sound. That was the moment we noticed Moombahton… in 2010/2011. We listened to Moombah and started playing that kind of music. We loved it and started Milangeles. In the next six month we released two Moombahton EP´s: "La Mano" and "Turismo Sexual". It was fun music but Moombahton was already in the end of evolution when we started. So we tried to produce a new kind of Moombahton. But we did not reach the target. Then we mixed Juke with Trap and worked on our own style of Global Bass. We like the Global Bass scene. We know many artists, everybody is nice. We made a lot of collaborations and started Remixes like the "Fisketorvet Riddim" (Copia Doble Systema) or "Fock Me Avontade" (Uproot Andy). Now we are doing official Remixes for artists that we never thought it could happen, for example Branko. Italy is not a easy country for new stuff. It is very conservative for everything. Little by little a scene is growing.
Do you have a favorite style and tempo?
We play 150 bpm. Sometimes it is a bit too heavy because after one hour the people and we are sweat. Young people want heavy stuff, that is why we do it like this. We get good feedback from the dancefloor.
How was the international reaction on the "Passionata" EP on MAN Recordings?
Daniel Haaksman has lots of contacts and we received much feedback, even from Diplo. Everybody liked the style. It´s a four track EP. One track is more low and the other three tracks smash the dancefloor. Many DJ´s like Bot (Crookers) and So Shifty are playing our stuff. It was also the start for us to get in the international festival agenda. MAN Recordings is the perfect label for showing our music. Everybody is pressing play and Daniel is a good person. For us he´s really like a father. Because he is the first person that believed in us. We were talking with him about the release for six month.
What kind of tips did he gave you?
He is always saying: "Keep it simple." … He asked us for new releases, but we need some time. We need a fresh inspiration. There is so many crazy stuff out at the moment, for example Zouk Bass… we are not so much into Zouk. All this new genre sound pretty the same. Like Trap music, it got boring. Daniel said we have to travel to get inspiration.
Which place would you prefer to travel?
Brazil.
Which Baile Funk artist do you listen most?
I like Deize Tigrona with her cigarette voice, MC Gringo is cool and Karol Conka is amazing! We asked Daniel: "Who is the producer for Karol Conka?". He did not know it. We would love to do a combination with her.
Is it hard for you to reduce yourself while you are in your studio to produce a more minimal, focused sound?
It is a bit like that. Our target is the dancefloor. We are no hipster producer that produce only for themselves. Right now there are a lot of people like this… It is hard to produce more reduced music because when you want to smash the floor you need a lot of elements in it. When we reduce our productions the sound seems to be very empty. We are working on that. Daniel is always saying: "Keep it simple". It is on our mind. The Clerk knows how to produce good reduced music. If you check his productions they are always very simple, but they work. We are living together in Pavia and share the studio.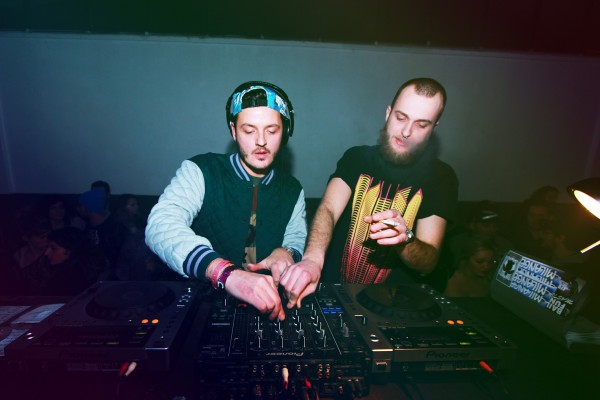 Do you master your stuff on your own?
Yes we do. Except the "Passionata" EP. Daniel asked Jan Driver to do the mastering.
Who is the favorite artist on your combination wishlist?
Schlachthofbronx.
Did you ask them?
Yes. They collaborate with some vocalists but not with many DJ´s. And now they are on Modeselektors Label. I hope it works out sometimes.
Is their stuff too minimal for the floors in Milan, or does it work in your clubs?
We had them once in Milan and it was amazing. The second time we had them here on a festival and again the people were dancing mad. Their mastering of the tracks is amazing. The Bass is so big… the people feel it. You just need a good soundsystem. We are waiting for their album.
What can we expect next?
There will be a strong collaboration between MAN Recordings and Mixpak. The release should be called "Pak Man". We have a track with So Shifty and Daniel Haaksman has a track with Dre Skull. And we also have two new Reggae Songs basically.
What?
It sounds like Reggae. One is pure Reggae but the other one is Electronic music with Reggae keys.
Who did the vocals?
Doubla J from Munich. The tunes should be out on Big´n`Hairy.
The Global Bass scene is very close together. Do you think it has the potential to grow really big?
Yes it has the potential, but people have to become more organized. It is growing slow and i hope it will grow faster in the near future.
Thank you for the interview.