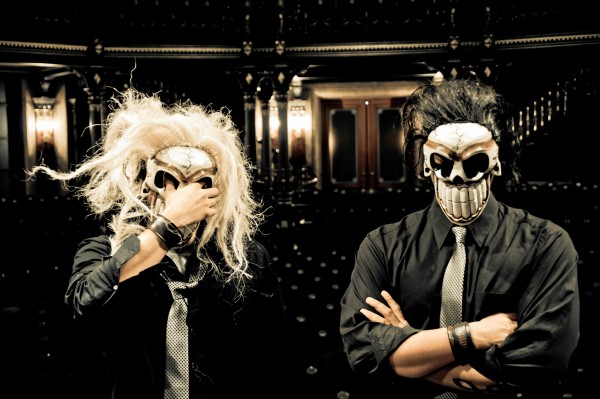 Nu breaks – fat B-lines – sex appeal! With this devastating mix Hanuman Tribe aka Lilijan and Orchidan Waworka have smashed dance floors all over Europe. The two brothers played next to acts like Stanton Warriors, A Skillz, Atari Teenage Riot a.o. Now they put out their debut album on their own label RIOT RIOT RECORDS. In the interview we talked about sleepless nights in the studio and special moments on stage…
Tell us about the history of Hanuman Tribe.
We started end of 2008 as a pure Breaks & DnB live act. Over the years we moved on to Electro, Bass Music and Techno. But we had the idea to do a live thing together way before that. We both have played classical piano for years and whenever we listend to electronic music, we talked about the possibilities to do that stuff live – without loosing the action on pads, knobs – and keys!
You are brothers. Has that got any effect on your colaboration?
It's great! We can read eachothers faces, see what the other one is thinking.
 That speeds up the workflow alot.
How do you split the studio work between the two of you?
In the beginning we always worked on tracks together. Now we have seperat time optimized steps.
 We catch an idea together or one shows the other a scetch and then we split: One prepares the parts, a ruff soundselection and the drum & percussion set. Off to the next one for arrangement, fine tuning and EQing. Finally we put it all together and perfect the whole thing.
How many sleepless nights did you spend in the studio to finish the album?
Lots. But most of it, about 70% of the time goes to the things surrounding the release: Getting promo stuff ready, planing campaigns, networking. All the updates and the album package – meaning new website, design, logo, video, shirts, shootings etc, booking and planing the tour, contact blogs, find forums, email radios & key artists.

Do you have a sponsoring deal with the manifacturer of a certain taurin containing lemonade.
Haha! Yeah i know, that studiopic with the 143 cans. We killed those in three months. Thats not counting all the illeagaly tasty coffees at the office.
 But that picture seems to make the rounds. The lovely ladies of that certain company already came to see us three times this year.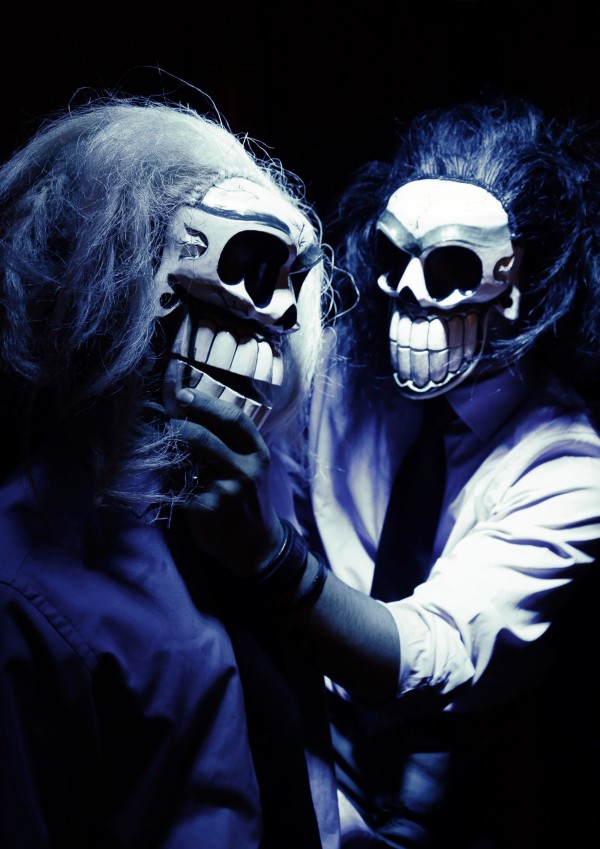 What can we expect from the album?
Musically it holds a few surprises. For the last two years our releases were somewhere between Rave, Electro and Bass Music. Most of them straight forward with focus on pressure and impact for the club. The debut album is a little more diverse. It goes from deep tracks, sometimes sinister and mystic, some orchestral and playful, to urban rollers, and up to total excentric freak out stuff. But always with an emphasis on musicality. It´s hard to pigeonhole the album. Hence the album title: CHANGE OF SOUND.
Is there a track on the album, that you are especially proud of?
Very difficult. Actually we love all the tracks on the album. There is so many different stiles, vibes and emotions, which makes it hard to compare them. If we want "Headnodd", there is a favorite, if we want "Beast", there is one and so forth. There is even a tune that always makes Lilijan wanna call our mom. Sentimental one. Favorite for the melancholic moments.
What can we expect next on your label RIOT RIOT records? What are there plans for releases, remixes?
We had a release break for nine month now. Simply for the fact that we couldn´t give it all our time and energy. And only then does it make sense to do it. Promos are piling up and there is a few good things in the pipeline. But we only really gonna hit it when the summer season is through and the album is released.
Please describe your live act.
Goin nuts on stage and unleashing a storm of emotions with the party heads. Passion, pressure, bass, synth thunder, goosebumps, swet, piano licks, warm pad clouds, moments that tell a story and make you listen, and others where your brain freezes and leaves your body pumping with ecstacy. Dancing!
What was your most beautiful party moment, what the strangest?
Beautiful: Sonne Mond & Sterne Festival 2012 was mind blowing regarding the intensety and the over all vibe. We were in a similar state as we are now. Three hours of sleep every night. No sleep at all and the night before the festival, because we had to make a free download track for the festival. So we arrived at the tent, no shower, hardly able to speak proberly and BAM: the energy of the people there pushed us to the limit. 
Strange: When half way through our set at Summerbreak Romania the sound started to drop out for a second everytime the bass would drop after the build up. We still don´t know what was wrong.
You can put on your perfect party. What´s the club and who`s playing?
Seven Grand Whiskey Bar LA. DJ Shadow and Bonobo are playing prime single malts and a padrón Family Reserve. Nice.
Where is the aftershow party?
Warehouse rave round the corner. The Whiskey is doing its duty and we get out of chill out mode. Now we wanna play ourselves.

Thank you for the interview.
Interview by Claas Sandbothe.