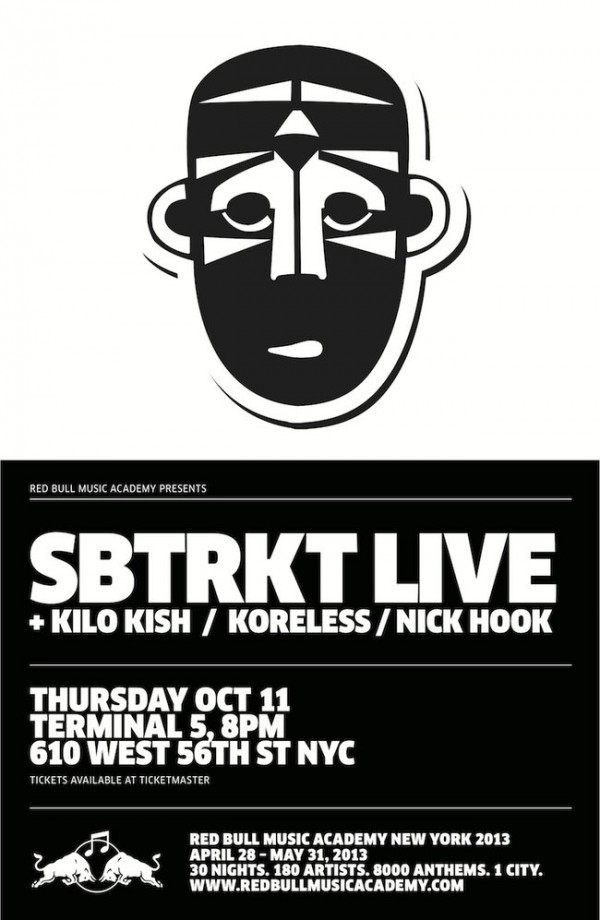 11.10.2012 SBTRKT, Kilo Kish, Koreless, Nick Hook @ Terminal 5, New York
The Red Bull Music Academy is doing a lot for the music, more than most people know: They have the fantastic Academy, a Magazine, the Radio and more and more special events where they feature the big veterans, but also the most fresh and innovative artists from across all styles. One of the new creators is SBTRKT – 2011 was a heavy year for him, with his very successful debut album and countless sold out live shows. We had the chance to see him and some collaborators live at Terminal 5 in New York.
Kilo Kish, Koreless and Nick Hook did their warm-up job well. The location was full with up with all kinds of Bohemians. SBTRKT began to play behind a big curtain, but only for one minute then the music stopped. We had the possibility to see how SBTRKT aka Aaron Jerome got mad on his laptop, but after 30 minutes the problems got sorted and the show started again. SBTRKT and his partner Sampha performed without their ceremonial masks. Aaron welcomed the audience and began to hit his drums while Sampha was playing keyboards, triggering vocal loops, singing and banging some percussion. As a special for the New York showcase they invited four violinists. The massive was blown away while SBTRKT hammered the effect knobs on his midi-controller and then quickly got back to his drums. Sampha provided sweet soul vocals and very tight percussion soli. Their deep and catchy harmonies attracted the people, no matter how hard they went. The emotional show was full of big soul, grime and pop moments.
If you have never seen SBTRKT in concert, do it.