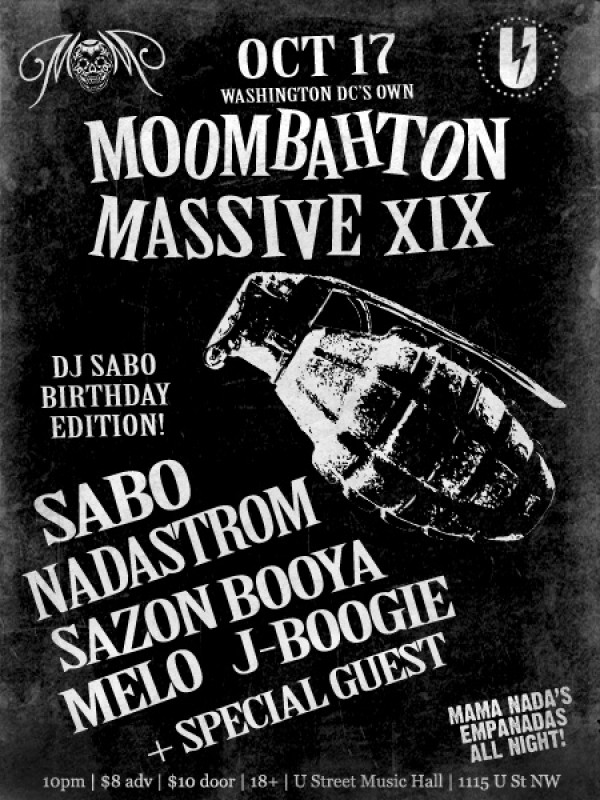 MOOMBAHTON MASSIVE XIX, 17.10.2012
SABO, NADASTROM, SAZON BOOYA, MELO, J-BOOGIE + SPECIAL GUEST
Moombahton Massive started as a resident night in Washington DC founded by Sabo and Nadastrom aka Dave Nada and Matt Nordstrom. Meanwhile it is the best known Moombahevent, even more it´s an international trademark. The DC Moombahton Massive monthly is sold out every time, they did a very successful MM USA Tour in May, a wicked MM Night in Miami presented by HARD, heavy partys in Europe and Australia and much more. We danced our asses off at Sabo´s Birthday Edition in Washington DC.
The party started early at 10pm, the place was full up fast and the people started to enjoy the music and Mama Nada´s supertasty Empanadas! The special guest from Berlin, Germany opened the night with lots of Dubplates and long mixes. Next was DJ Melo from Phoenix shakin the floor with some smooth grooves. J-Boogie dropped some funky beats and drinks with the Moombahfam behind the desk. Sabo went on the decks and played his progressive and deep Moombahtechno, while Dave Nada shouted "Happy Birthday" with the complete audience. After a great set Nadastrom raised the temperature with some leading-edge vibrations and the girls started grinding on their dudes. Then it was "Sazon Booya" time – NYC´s Moombahton Duo stepped on the stage with a big crew and their hypeman Mystereo. The whole place went mad as they kicked some Heavy Metal influenced Moombahcore. Nadastrom changed the game and we were surprised as they played their first tune with more than 165 bpm. The fans loved the little Trap intervention and continued to hop to some back2back Moombah business until the lights turned on. A very special night with a fantastic atmosphere – big shouts to everybody we met!
We also did a large interview with Sabo and Dave, what you can read in our next Headliner Mag print issue in December and on the blog.