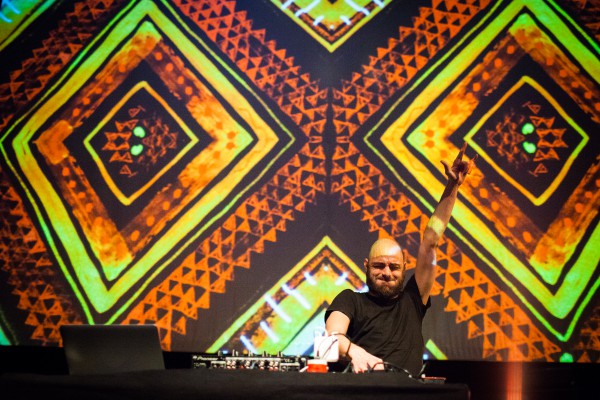 Clap! Clap! is a friendly speedball shaman who is trying to inhale as many cultural aspects as possible to translate and transport them with his music. He started his career as an MC in a florentine Hip Hop crew called "3CK" (from 1997-2002). In 2012 the Jazz musician initiated Clap! Clap!. He got signed by the "Black Acre" family and released his brilliant "Tayi Bebba" fairy tale LP. The mix of contemporary beats and sensible selected tribe samples earned a wide success in different musical scenes and also got played by many radio stations.
Which instruments do you play?
Alto and baritone sax, percussions, mbira, analog and digital synthesizers and various samplers and drum machines.
How does your studio look like?
Like this!
Please tell us something about your other projects.
Ended projects include:
TRIO CANE
A SMILE FOR TIMBUCTU
KDG
TES.LA
PASTA CONDOM
LSD
Projects still running, include:
CLAP! CLAP!
DIGI G'ALESSIO
TROUBLED MINDS CABIN CREW
5Y5
COLOSSIUS and DIGI
BRAILLE FUNK
How did you meet Black Acre?
I discovered them some years ago because they have some amazing releases and they discovered me three years ago through the web.
You have a trademark sound but the tempo and rhythms change very often. How do people react on the dancefloor when you are playing?
It depends on the crowd, but most of the time the reaction is very good. I love when a performance sound can travel among many different rhythms without too much eclectivity.
You dance wildly during your powerful live sets but you also look inside yourself. How much do you notice the audience while you are playing?
I notice it a lot! The most important thing to me is to always create a good feeling with the crowd. It is essential to perform a good show.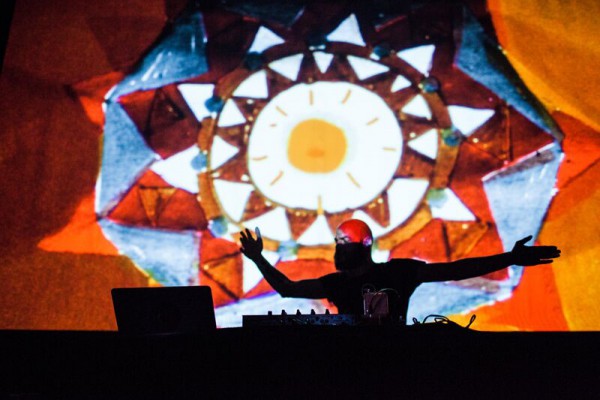 Please tell us your feelings about the technical and musical sides of producing.
I love to produce in as most ways as possible, sometimes I just record the whole production from the drum machines and samplers and sometimes I produce with only vst plug ins. I like to record different kinds of ethnic instruments as I like to shoot my own field recording sessions.
Do you have a main sample source?
Not a main one. I use different sources such as documentaries, youtube, homemade recordings, vinyls, cd's, tapes, own field recordings, blogs etc…
I heard some Siberian Shaman voices, African tribe samples and much more. Do you understand the meaning of the samples?
Not everything but I know most of it. There are two Kenyans in my girls' family so I understand some of the Swahili language which is present in most of the vocal samples I used. The Siberian voices you heard is a historical traveller's chant! I discovered it in a documentary. In this case I don't know the exact translation but I understand the meaning of the chant. The Holy Cave is the place where the Tayiians can travel through the island past history, so a traveller's chant was the perfect sample for that production!
How important is the background content of the audio pieces you are using?
It's very important to me! I think it is a good thing to spread a message with a well related sound.
Indie Shuffle wrote that you used Alaskan Inuit tribe samples for the tune "Serendipity" from your latest "Simple" EP. And that you had been inspired by your wife's pregnancy. Please tell us more about the sample background and your inspiration.
Yes, the percussions sampled to create the rhythm come from Alaska. I recorded most of the tunes from the EP during my girlfriend's pregnancy, we were together and I was very inspired by those moments. I was impressed by the simplicity and naturalness of the creation and this influenced the whole sound.
What was the biggest surprise since you became a father?
Everyday is a surprise!
Did your time structure changed?
Of course! A lot!
What can we expect from you next year?
Good music and positive vibes!
Thank you for the interview.
You can buy Clap! Clap!´s new Simple EP here
Photo Credits: Theo Cottle