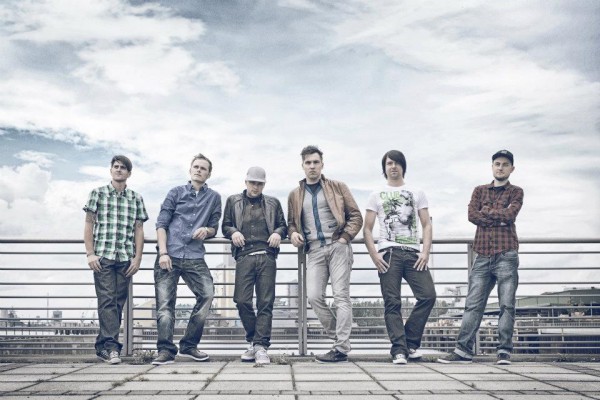 "Aelement – Sizzling guitars, belted out vocals, precise bullet-like rap parts,
smacking basses, punchy drums and propelling tunes. Punk & Bass with heart and
soul." That´s how the six guys based in Bremen, Germany explain themselves.
The sound of this band sound more like DnB and Rock to us – they try to find their
way into the mainstream. We asked them how they feel.
How did you get the idea to run this bandconcept between Rock, Electronic Music and Drum and Bass?
Basically we wanted to create an organic and "real" sound within this electronic-dominated scene so we mixed the Rock- and Punk-typical instruments like guitar, bass, drums and vocals with Drum and Bass. The outcome is Punk & Bass as we like to call it. Through the live sound mixed with electronic elements there emerges a new sound as what people are used to when they listen to each of the genres we are blending. And this is exactly what we want to achieve with this project.
The technical development made it easier for everyone to make music like "on the fly" and theres bands like ten a penny. We want to distance ourselves from that – bravely try something new. On the other hand our aim is to do both genres justice so our music is appealing to those who are into electronic music as well as those who like Rock.
Did you have a role model to follow?
Each one of us has his own origin and therefore his own music and artists he likes. But all that considered our main inspiration hails from Punk, Metalcore, Drum & Bass and Dubstep. If we had to name some artists now it would be guys like A Day To Remember, Evergreen Terace, Skrillex Chase & Status and Camo & Krooked.
What you think is the most important thing of creating music?
In our case we want a song to be catchy and release a certain amount of energy on the dancefloor as well as when you listen to it on your own at home. So you need the dedication to make it sound like you want to hear it and wrap up the details in a way the song still means fun listening to after several times. Hence you need endurance. Sometimes it is important to put a song aside for some time to gain objectivity again. And, of course most importantly, is creativity. The song needs to carry a certain feeling. "Lost Signal", for example, will make give you a different feeling while listening to it than you have while listening to "Sleep Disorder".
Is there a routine of producing? How does a track like "Nightfall" come up?
The main guitar lick of "Nightfall" was written bei Karpi, our bassist. We were hanging out in the studio one afternoon and had the idea of merging breaks with Rock'n'Roll-singing. Kinda like a mixture of some snotty vocals and a catchy melody. So we came up with the hook pretty quick, the arrangement and the lyrics followed and as far as we got that wrapped we wrote the lyrics. Actually, this song took us the least time to get it finished, two days from start to finish.
What are your criteria for saying yes or no to tracks you are working on?
In the first place it depends on the individual decisions if Aelement releases a song or not. As mentioned earlier a song has to have energy. Sometimes you start writing a melodie but as you progress with the song it gets a different touch from what you started out with. Sometimes it could turn out to be too feeble, simply not match the original idea or the topic we figured out for it didn't match anymore after we pre-recorded it.
These things are owed to the different ways we approach the song. Meaning sometimes just one of us has an idea while sitting at home on his own, records it and sends it to the others. We discuss these ideas with the other members then and figure out if everyone likes it. In one case it even occured that we had nearly finished a song but all of a sudden we lost the feeling for it… So we had to dump it in its final stage.
Can you tell us anything about your new video?
The next videos will be "Lost Signal" and "We Won't Forget". With "Lost Signal" being a quite emotional song with deep lyrics and an explosion-like hook the focus in the video will not be on the band but on a single protagonist. We wrote a story about a person and the video will be about following him around and see what he experiences. "We Won't Forget" will also feature a video with a storyline. Without telling too much about it I guess at first glance the story might not match the content of the song. But you will figure out the similarities, I reckon.
First bookings are confirmed for 2013. Club- and Festival showcases as well – what are you looking forward to most?
So far we are especially looking forward to play at the Sonne, Mond & Sterne Festival in Saalburg this year. Before Aelement some of us have played at festivals before but this is a whole different chapter for everyone of us. Not just because we are excited to see how it all works out but obviously because festivals are different to club events and we are gonna do our best to make it a night everyone will keep in good memory.
Thanks for the interview.
https://www.facebook.com/aelementmusic
http://www.aelement.de