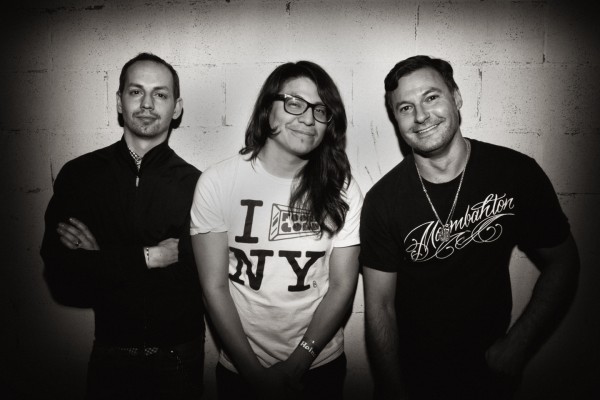 MOOMBAHTON MASSIVE
Moombahton is Massive! But is it an established genre? Check our interview with Nadastrom and DJ Sabo.
Who are the founders of Moombahton Massive?
Sabo: It´s pretty much Dave and me. He called me and asked if we want do it.
Dave Nada: The Moombahton Massive event started with me and Sabo. I was doing a party called "Moombahton Mondays" in Washington DC in summer 2010. Every monday i did a party with Moombahton music. It was just me from the beginning to the end, but I mixed it with Cumbia, Tropical Bass, Dancehall and other stuff that is related to Moombahton. I did that for the summer and it started growing really big. During that summer I had two guests: Sabo playing one time and Matt playing one time. We just had a good chemistry from the beginning. I invited Sabo for a birthday party at U Hall, where we do the Moombahton Massive now. That was the first time I saw him playing and I was blown away. From the experience having such a great birthday show, I asked him to come down again. I planned to move down to LA in the end of October and told Sabo: "I'm gonna move to LA and stop the Moombahton Mondays, let´s do a big party before I leave, just to keep this good time in mind." I wanted to do something bigger, so it´s the Moombahton Massive. Sabo said: "Let´s do this." Then we invited another guest for our first party…
Sabo: That was Munchi…
Dave Nada: Yes, we both wanted Munchi here for his first show in America. That was the very first Moombahton Massive, Sabo, Munchi and me in summer 2010. That was such a success, so we decided to do it again. We did it again in January, this time we had Munchi, David Heartbreak and Nadastrom. Nadastrom is me and Matt Nordstrom, and we were playing Moombahton already in our sets and producing it. We did it a couple more times and in summer 2011 we started to do it every month. The idea was to celebrate a whole night of Moombahton and bring in the best guests.
Sabo: So basically Moombahton Massive is Nadastrom and myself, we are the residents. We started the party in the U-Street Music Hall, but now we are trying to bring the party to other cities and countries all over the world.
Are many people traveling to Moombahton Massive in Washington DC, or is the party full up with locals?
Dave Nada: Last month we had a kid that took a bus from Canada. Shout out to Emilio! The first parties were mostly filled up with locals and some friends from NYC would come dow,n too, but now we have people starting to come from other cities and even other states. The cool thing at U Hall is that nobody is allowed to take pictures, so it´s like a mystique. You have to come, and be there, to know what´s going on, and how crazy the party gets.
What´s the capacity of the U Music Hall?
Sabo: 500 is the capacity. It´s not that big, so it´s still intimate, but it´s big enough to get crazy.
Do you think that the success of Moombahton can kill the family vibes?
Dave Nada: I don´t think so. Moombahton has the potential to cross over to different markets, particularly the commercial, whether it´s Pop, Hip Hop or Latin. The roots are strong for Moombahton, it´s already been here for three years. People love it, push it, all the supporters, the music lovers, I feel that there will always be a core group that will do Moombahton, whether it´s commercial or it´s underground. It´s such a family vibe since the beginning.
Sabo: It´s getting a better and stronger family. We´ll keep the family vibe. It is one of the main priorities beside the music itself. We should bring your Mom on tour with us Dave! She makes the best Empanadas!
What about new musical hypes like Trap. Will they have a great influence on the music and the scene?
Dave Nada: In relation to Trap, I see the both very related. They both pull from electronic dance music, but they also have a Hip Hop background. These are two worlds that are colliding and the timing is very good. Moombahton was a good indication of that, having a heavy influence in electronic dance music. People were not thinking this could happen. With Trap it´s Hip Hop and electronic music fusing together. I hear also musical influences from Moombah in Trap and i hear Trap influences in Moombahton. It´s just a sign of the time. The younger generation is growing up with all kinds of music. I think what that does is it makes Moombahton with Trap music really attractive for all kinds of audiences. Electronic music is the biggest thing, it´s bigger than Rock´n´Roll or what ever. You have all this smaller parts like Moombahton, Glitch Hop, Trap and so on. There is a good platform for it now, a lot more than it was in the past. The timing is very good.
You had a Moombahton Massive Tour in the States this summer with 13 gigs, a HARD Moombahton Massive in Miami, one oversea in Barcelona – do you have plans for a residency in Europe?
Sabo: We would love to. For me it´s really important to do a proper Moombahton Massive in London. I also would hope to do one in Amsterdam or Rotterdam. Basically in Holland, where the dutch influence from Moombahton comes from. Any city would be awesome, but it´s important that we do it there.
Dave Nada: In December we have one in Berlin, let´s see. Kopenhagen has a strong scene, even Paris. There is a lot of potential. Some cities get it, some don´t, at least not yet. The same thing on our tour… Our success with the HARD Moombahton Massive at the Music Conference in Miami was an eye opener. We sold out over 1200 tickets before the doors even opened. That's really heavy – during WMC, with about 20-30 incredible parties happening a night. We still had about 1000 kids trying to get in too. There are also some demands from South-America and some demands from South-Africa for me and Matt. We don´t know if it´s Moombahton related or not, but it´s a strong possibility.
Sabo you just came back from Mexico. How´s Moombahton going there and in South-America?

Sabo: It works really well in certain places. It´s like any kind of smaller genre of music. There´s a group of kids that are into it, and there´s a bunch of people who never heard of it. The good thing about Moombahton is that you can play it for people who never heard it and they will still get into it, because there´s a lot of crossover potential and they recognize some of the samples. I went to Colombia in 2010, at this time there were maybe 50 Moombahton songs out in total. I played a 40 minutes set full of Moombahton and they went nuts. For sure they never heard this music before, but they got it. In Colombia it definitely has a lot of potential, in Bogota there is a strong scene and I think in Argentina it's gonna work, too, because they have a huge Cumbia scene. Parts of Mexico are still very difficult, I have to play more Latin there or more on the deeper side. Where I play in Mexico, Playa Del Carmen, is mostly Tech House and Disco. If you play too hard, or too Hip Hop, it doesn´t work. Mexico City is different. But in the smaller towns you have to test the waters and see where it works or not. It depends a lot on the promoter who brought you there as well. Costa Rica is another place where I think it will work very well. They are really into Moombahton.
Dave Nada: Nicaragua too. DJ Craze just played there, I think he told me that a JWLS record was in the Top 10 Charts in the radio. The potential is there, it´s about us to push our vision and our brand and try to be consistent. It´s not even a year we are doing Massives outside DC.
Sabo: 2013 is gonna be the year to definitely break into South-America. We are already planning a tour, plus you guys (Nadastrom) are going there with Skrillex to do a tour, so that's gonna help a lot to spread the sound.
Dave Nada: That´s gonna be crazy!
Can you pick out one very special moment that happened at a Moombahton Massive?

Sabo: The one for me is when Dave pulled out a ring and proposed to his fiancé Jen Lasher while I was DJing. I started crying.
Dave Nada: That goes just along with the family vibes we were talking about. Moombahton Massive is very family orientated. At Thanksgiving night, where usually no one ever goes out – most people stay home, have dinner and watch football – But we had a packed house. All the homies were in the DJ booth. There are so many highlights. Also our first party as we had Munchi. I think it was the first or second time he was DJing. He murdered it, but he didn´t even mix.
The fastest track you played at Moombahton Massive?

Dave Nada: We mix it up.
Sabo: There is no rule. We play Baltimore, we play House, we mix it up with lots of styles. As long as it´s relative, and not one hour of Dubstep -haha. We play doubletime sometimes, Socastuff… It depends on the guest. Toy Selectah played some uptempo, Craze played everything… there is really no rule, but in general we play mid-tempo music the majority of the night.
How will Moombahton sound next year?

Dave Nada: It´s starting to break up in different vibes. Soundwise you have really heavy stuff, some of it doesn´t even sound like Moombah, but you can hear the influence: There is 110 bpm Dubstepsound, Techno with strong Dembow influence… I think a year ago people were making deep records and gave it names like Moombahsoul, Moombahtech or what ever. If it sounds good it will develop itself. Specially the deeper side is turning into its own market, people won´t even call it Moombahton anymore.
Sabo: There are some big names and Techno labels that put out Techno type tunes at 110 bpm and I would call it Moombahton, they would never call it like this. But it is!
Dave Nada: The music and the vibes are getting more and more established. Kids are growing up with this music and it has this market. I have no idea how it´s gonna sound like, but I know Moombahton is gonna grow. The usually formula is kind a like played out. The sirens and the synths, it´s been done. We are waiting for the smoke to clear and then someone comes up with something crazy.
Thank you very much for the interview.