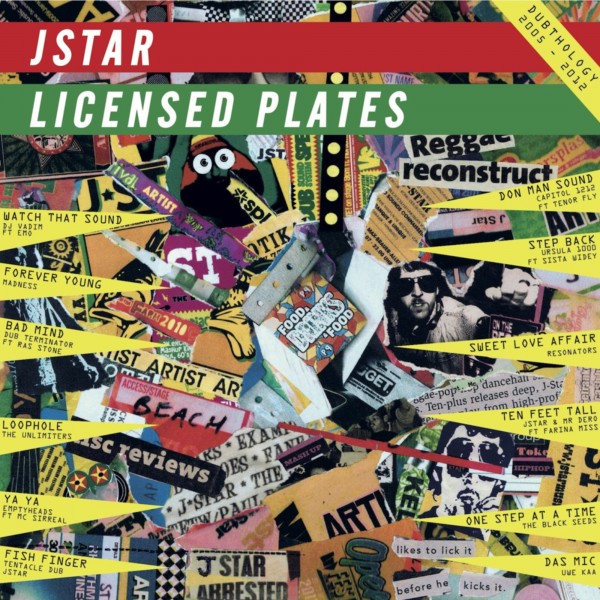 We love to play Jstar´s wicked Reggae/Hip Hop remixes. He released more than 60 big tunes that made it into record boxes of DJs worldwide such as Norman Jay, David Rodigan, Grandmaster Flash, John Peel, Benji B, Motagen Sound and Diplo and regularly reached the Top Ten on Juno and Beatport.
It´s always big fun to select with him and to play with his lickshot machine that he lost at our hometown. We also did a interview with him in August 2012 – now he is celebrating 10 years of his record label: "Jstar Records"!
Take a look into the future with: Jstar "Licensed Plates" on limited vinyl, CD and as downloads.
An original Jstar album is under production for late 2013.
Tracklisting
a1 DJ Vadim -Watch That Sound (Jstar Fat Drop Mix)
a2 Madness Forever Young (Late Nite Taxi Mix)
a3 Dub Terminator feat. Ras Stone Bad Mind (Jstar Remix)
b1 The Unlimiters – Loophole (Jstar Remix)
b2 The Empty Heads feat. MC Sirreal -Ya Ya (Jstar Remix)
b3 Jstar – Fish Finger Tentacle Dub
c1 Capitol 1212 feat. Tenor Fly – Don Man Sound (Jstar Remix)
c2 Ursula 1000 feat. Sista Widey – Step Back (Jstar Remix)
c3 Resonators – Sweet Love Affair (Inna Chicken Head Dub)
d1 Mr Dero & Jstar feat. Farina MissTen Feet Tall (Jstar Remix)
d2 The Black Seeds One Step at a Time (Jstar Remix)
d3 Uwe Kaa vs. Jstar – Das Mic (Frankminister Dub)
bonus digital track for vinyl buyers – Magic Fly – Play that funky music (on your Russian drum machine)