"ADI-J lives in Amsterdam and spins her "IN YOUR FACE" blend of Drum & Bass at events all around the country, with a list of International gigs as long as your arm and a current Dutch residency at: "Cheeky Monday" @ Winston International, …" …that´s the first part of Adi-J´s info on facebook. We wanted to know more and asked her some questions.
You were born in Israel, when did you leave and what were your stations until Amsterdam?
I left Israel in 1998 after establishing the Drum and Bass scene there. It was very early days but i managed to create a great crew (Bassground), with eventually a weekly friday at the most hip club in Tel Aviv back then (Alenby 58). We had almost every big name possible out there. Such a small country, such a successful scene.
I left in order to grow and develop further in the music industry as i already worked for Sony/Emi in Israel and was a big name DJ….there was nowhere to go.
Please tell us something about the DnB scene in Israel.

Today the scene is a bit underground, since Infuse crew, which was a very serious crew (led by DJ Mute), has left promoting parties. I say it with great sadness.
You release your music on Renegade Hardware. How did you link up?

My actual music is not released on Hardware (yrt), as most of my productions ending up being more mellow and deep. I am a Hardware soldier though. Been a resident for many years and being supporting the label, the DJ's and its music worldwide. I have been a huge fan since the old days, and slowly got to know the people behind it. It´s not untill years later i started playing for them.
You played on many big events like Renegade Hardware partys, Lowlands Festival and Sun and Bass. Please compare these events to each other.
Each event has its own magic. I also play at Innovation in the sun and the dam. Lowlands was the largest crowed so far, but obviously i had to compromise with the style of music. I love playing at any event and love the challenge of providing good dancefloor with out being a hit machine. So far it worked each and every time.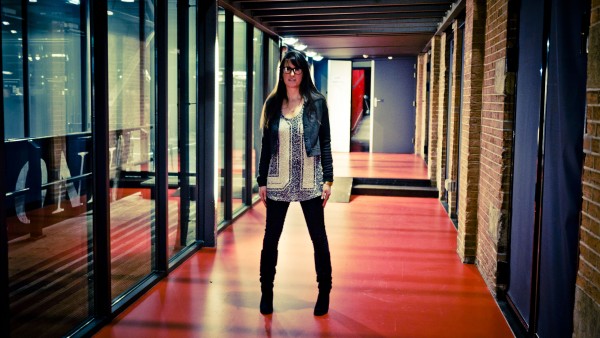 You are also a resident DJ for the Cheeky Monday partys in Amsterdam. Please tell us your feelings about the wicked experience playing nearly every monday, when most people start their weekly work.
Cheeky is very close to my heart. I started playing for the promoter, Loz, from day one. I think its the craziest combo of people and music, and it can only work there, at Winston, in Dam, on a monday.
Please tell us something about the B.A.S.S. crew.

"Bad ass spinning sisters crew" was created to bring out female talent in DnB in the Netherlands. We toured a lot for 2/3 years and it was great to have so many female talent on one stage with only DnB. It was Keira, Nuala, Mizzfits, D-monica and myself, at some point we also had another girl called Quilla. Unfortunately only Nuala and D-monica are still playing DnB. It´s was great days and great experience! We became also very good friends.
You were graduating from SAE Amsterdam. How much did it help you and would you tell young producers to do this if possible?
I think the school changed a lot since the time i did it. It gave me a very large spectrum knowledge about sound in general, but def not enough insight into production, which for me was a pity.
Do you still play bassguitar?

Hahaha! No! But i can easily get back into it. It´s like riding a bike.
What can we expect from you this year?

Most hopefully releases. I´m trying to dedicate more and more time for it.
Thank you very much for the interview!